A KAYAK FISHING WEEKEND WITH DENNIS SPIKE AND THE KAYAKFISHING.COM GUIDES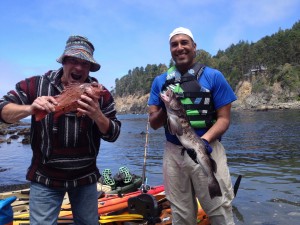 "NEW" Weekend Kayak Fishing Trips @ Ocean Cove- June 23-25, July 14-16, August 18-20, September 22-24
Location: Just 40 minutes North of Bodega Bay on Route 1, Ocean Cove is a privately owned family campground and store with easy coastal access.
Hosted by guides Dennis Spike and Kyle Monte plus expert Kayakfishing.com Pro-Staff Anglers.  A revival of weekend trips we've done to Northern Baja and Big Sur, the Sonoma Coast produces a lot more fish. Targeting BIG lingcod, rockfish, salmon and more. "Why do some people always catch more and bigger lingcod?  Because they know how!"
Intended for both newer and experienced kayak anglers, the weekend trips meet Friday and fish Saturday and Sunday.  We'll discuss and demonstrate knots, lures, jigs, lines, terminal tackle and rigging.  The guides will conduct seminars (Friday PM) on targeting lingcod and salmon, how to catch more reds and rockfish species, fishfinder applications and a safety seminar. We'll detail how to target GIANT LINGCOD and which techniques work best for your kayak model (touring, recreational and peddle drives).  Weather forecasting, reading the bite, live and cut bait, the daily relevance of tides, currents and moon phases plus many more topics will all be covered.  Guests are encouraged to bring questions.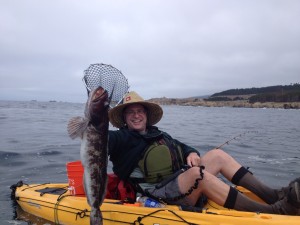 Camping at Ocean Cove Campground– We use a Group Site for this trip with plenty of room.  Group site camping spots must be reserved with the reservation.  Camping at Ocean Cove is $27 per vehicle per night.    Guests are welcome to stay in the main campground and not required to use the group site.  No reservation is needed, pay the camping fee at Ocean Cove Store upon arrival.  There is room for a few RVs in the Group Site, BIG RVs should use the main campground.  Short of hook-ups, Ocean Cove is a fabulous RV campground overlooking the Pacific!  Campground water is artesian well water, sweet and clean.  Hot pay showers and Ocean Cove General Store with bait, provisions and liquor are on-site.
*Please contact us directly for local lodging options.
Gearing up–  A detailed gear, tackle and bait list is included with the trip confirmation and detailed trip info too.  The full tackle list is more for future reference to support what guests learn on the trip and we do suggest bringing a few lures on the list.  Only a few items, like shrimp flies and weights, are "required" though and tackle costs are minimal.  We recommend one 3# box of California squid (frozen supermarket squid) per day of fishing.  A landing net, minimum opening 18 inches, is required on all fishing vessels (kayaks).  A   suitable, inexpensive salmon net works best for lings.  Gaffs are not required gear.